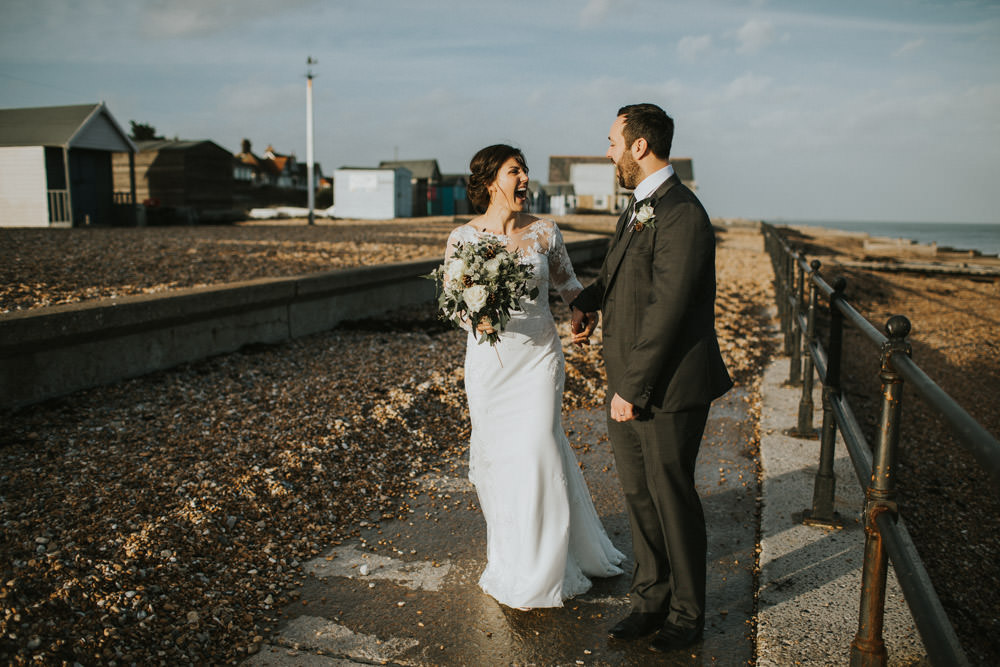 Coastal Lovin'
Winter was hitting pretty damn hard. Not in the snowy and dull grey kinda way, but thankfully in a clear blue skies and some kind of arctic wind way. And my word, did it feel like we had totally lucked out. With Abi & Rich currently living literally seconds away from the Kent coast, they'd chosen a little village church up the hill where Abi's family have been regulars for generations, and to see everyone coming together, and literally running into the church out of the so called artic wind was an awesome sight! All with smiles from ear to ear, eager to see these two wicked souls get married. Church bells ringing, organ firing, guests frantically clapping, they were now husband and wife, woop!
Of course being so close to the coast as it's a spot where they love to hang out, we then headed straight for the beach in all of its sunny glory. Actually it was the very same spot we did their pre-wedding shoot because they love it that much. And after spending a little time both soaking in not only the sun but the amazing commitment they'd just made, it was time to head onto the amazing Blue Pigeons venue where their guests were ready and waiting for them to celebrate damn hard!
What an amazing winter celebration these two have put together, with such a wicked atmosphere! Nothing but laughter, drinking and a heck load of crazy dancing. These guys know how to celebrate!!
Congratulations Abi & Rich!!